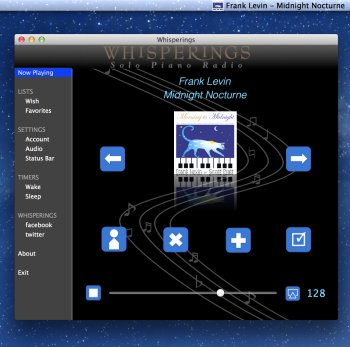 The Whisperings Application

The Mac Desktop App
See Also: iPhone, iPod Touch, iPad, Android

With this compact and easy-to-use app you can access your favorite "Whisperings: Solo Piano Radio" music stream from your desktop. No more using browsers and media players to navigate to the Solo Piano Radio website. No more having to search for information about the piano players you love or the music they so beautifully create!

FEATURES:
Whisperings is a solo piano music broadcast featuring over 200 talented pianists from around the world. It's piano music 24/7, with an emphasis on music that is melodic, peaceful and relaxing. It's wonderful listening whether you need it for background music for the office, something to relieve work stress, for yoga, prayer, massage, dinner music or even a late-night romance.

And while you are listening you can browse the www.solopianoradio.com web site to find information on the artists, view concert schedules, buy concert tickets, sign up for the Whisperings mailing list and more. Or you can jump to iTunes where you can purchase and download the music you hear on Whisperings.

Tune into Whisperings for music that will quiet your busy, noisy world.

Get the application right here from the Apple iTunes store for $4.99.

---
Questions? If you have any general questions about the applications, feel free to forward them to David Nevue at dnevue@rainmusic.com . For Technical support for this app, please contact Ken Roy at kenroy@emphatek.com