A happy announcement for our Whisperings Radio subscribers, supporters, followers, concert attendees and piano music fans!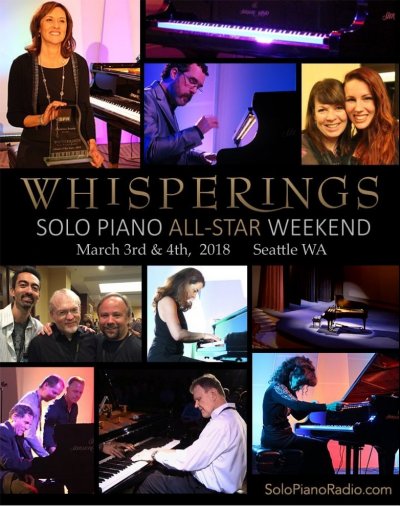 We are very excited to announce the 5th Annual Whisperings Solo Piano "All-Star" Concert Weekend, which is coming to the Seattle WA area on March 3rd & 4th, 2018! It's the biggest solo piano event of the year... and YOU are invited!

This year, we are doing two shows over two days... featuring 31 Whisperings artists including performances from all the Whisperings Solo Piano Album of the Year nominees! We are making an entire weekend of the event!

At the end of Sunday's "All-Star" show we will announce the winner of the Whisperings Album of the Year and present the award. It's going to be such a joyous occasion! Fun!!

Now I realize that most of you receiving this are a LONG way away and won't be able to make it to the show... even so we wanted to at least let you know about it... give you the heads up just in case you decide to make the trip. For the piano music fan, this makes for a fantastic weekend getaway!

There's nothing quite like being there and getting to meet all the artists! Dozens of artists from Whisperings radio will be in attendance. So far, 64 artists have confirmed that they are coming, which will make this year's event the largest Whisperings artist gathering yet!

So if you are able to make the trip, here are the details...

AN ENTIRE WEEKEND of SOLO PIANO Excellence!
Thirty-One Artists performing over two shows!

Saturday, March 3rd, 7:00 PM
The Whisperings "Discovery" Concert
Featuring performances by both up and coming and established artists in a very intimate setting @ RESONANCE at SOMA Towers, 288 106th Ave., Bellevue WA 98004. Only 120 Seats available!
Tickets for THIS SHOW are $30 - BUY TICKETS | More Info

Sunday, March 4th, 3:00 PM
The Whisperings "All-Star" Concert
Featuring performances by Whisperings "Solo Piano All-Stars" PLUS the 2017 Album of the Year nominees! The Album of the Year will be awarded at the end of the show! This event will be held at the elegant Kirkland Performing Center, 350 Kirkland Ave., Kirkland WA 98033
Tickets for THIS SHOW start at $40 - BUY TICKETS | More Info

Please Note that you need to purchase tickets to each show separately as they are at two different venues.

Who's performing?
Saturday's show: Christine Brown, Gary Girouard, Greg Maroney, Joseph Akins, Zachary Bruno, Lynn Tredeau, Amy Janelle, Rachel Currea, Ed Goldfarb (of Azimuth), Greg Starr, Jon Dahlander, Kris Baines, Sarah Modine, Kathleen Ryan & William Ogmundson

Sunday's show: Michele McLaughlin, David Nevue, Joe Bongiorno, Mike Strickland, Joe Yamada, Gregory Lang, Brad Jacobsen, Gina Lenee Perkins, Lisa Downing and the Nominees for Album of the Year... Louis Landon, Matthew Mayer, Michael Logozar, Masako, Ryan Marvel, Chad Hewitt & Sally Kidwell

More Information Here!


Accommodations

Should you decide to make the trip, you can save 10% off the best available room rate at The Heathman Hotel Kirkland during the Whisperings concert weekend! The Heathman Hotel is within walking distance of the Kirkland Performance Center (where Sunday's concert will be held) as well as shops, restaurants and more. To receive your 10% off deal, use promo code SOLOPIANOFAN when you book your room, or click here to go right to the discounted "Whisperings Piano Rate" page.

We would love to have you celebrate with us!

If you have any questions, just drop me an email at dnevue@gmail.com
Thank You SO much!

David Nevue
Founder of Whisperings: Solo Piano Radio
David Nevue on Twitter | Facebook | Instagram | Pandora | Spotify
Whisperings: Solo Piano Radio
SoloPianoAwards.com | Whisperings Solo Piano Radio | Facebook | Twitter
---
We respect your privacy. If you wish to unsubscribe from future mailings,unsubscribe here.