Whisperings: Music Submissions and License Agreement

Are you a solo piano artist interested in submitting your music for inclusion on the Whisperings: Solo Piano Radio broadcast? If so, it's important that you first understand the VISION behind the Whisperings project.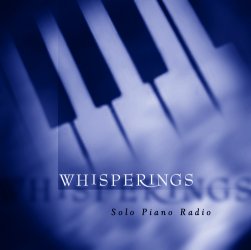 Whisperings Solo Piano Radio was founded in 2003. It was the first broadcast of it's kind to feature solo piano music exclusively. It has been very sucessful, and is 100% listener supported. However, Whisperings is designed to be more than just a radio broadcast. It's a community of solo piano artists. An artist-only discussion group is available for networking, advice, idea-sharing, promotional tips and gig-sharing. If your music is included on the broadcast, we encourage you to become an active participant in the community. The more you invest in Whisperings in terms of your time, energy and ideas, the more you will enjoy the benefits of being a part of the Whisperings radio community. Like most anything else, you get out of it what you put into it.


Submission Guidelines:

1) Only solo piano work will be considered. If your album includes a small amount of additional instrumentation, that's fine as long the album is mostly solo piano. A good rule of thumb is this: the more solo piano music your album contains, the more likely it is we'll use it. It's fair to say that if your CD isn't at least 70% solo piano, we'll probably pass on it for the broadcast. This is because...

2) We must be able to promote your album as solo piano. If we can't reasonably call your album "solo piano," we won't promote it to our listeners. Though we get a lot of great music that isn't solo piano, we have to keep our target audience in mind. We're in the business of promoting solo piano music.

3) The album must contain original or public domain works. Due to licensing restrictions, we cannot play cover tunes, only original music or public domain works (i.e. Christmas, Traditional, Classical tunes.) Solo piano albums containing two or three cover songs will be considered, just know up front we are primarily interested in orginal music. The less original music on the CD, the less likely it is we'll use it. Classical music is welcome.

4) Your music must be available for purchase or download. If our visitors love your music, they'll want to purchase your CDs and/or downloads. We want to help them do that and so, to that end, your music must be available as a retail product somewhere for purchase and/or download.

5) Your CD must SOUND professional. Just about anyone can record a "solo piano" album on their home keyboard these days. While we have nothing against keyboards, Whisperings radio features a rich acoustic piano sound. If your CD was recorded on a digital piano, we'll still consider it, but just know that we do prefer a genuine acoustic piano sound and that sometimes we do pass on albums if they sound too digital.

6) Submit just one CD to start with. In the past, folks sent us their entire CD catalogs for review. It's a bit overwhelming. Just send us your best (or most recent) CD to start with (just one copy) and then in your cover letter let us know you have other CDs available. If we want to review more albums for the broadcast, we'll ask.

7) Please include your contact information with your CD. Specifically, an email address and phone number where we can contact you if we have questions.

8) Digital-only releases: Many artists are choosing to forego making CDs these days. We will gladly consider your digital-only album so long as the digital downloads are available for listeners to purchase somewhere (such as iTunes or your web site). To submit a digital-only album, please burn it to a CD and submit it to us like a regular CD. Then, include a note somewhere in your package specifying that it's a digital-only album and we'll take it from there.

9) Review time is currently three months. We give every CD we receive our complete attention, listening a dozen or so times before selecting songs for the broadcast. Please allow us at least three months before you follow up. Don't worry, if we choose your music for the broadcast, we will be in contact with you.

10) Reviewing music via web sites. It's not uncommon for an artist to ask us to review their music via their web site (or YouTube videos) before sending a CD in to us. Our response to that is; no, we'd rather not. Your odds of being included on Whisperings are music greater if you send in a CD for us to review. Why? Because we listen to the CDs we receive over and over again, allowing ourselves time to warm up to your music. There are many artists on the playlist whose music didn't grab us on the first listen, but after repeated listening we came to love it. So if you have confidence in your music and think fits within our format, send in a CD.
11) We cannot return your materials. If you submit your album and we choose to pass on it for the broadcast, we cannot return your materials to you. Once we've reviewed an album, if we choose not to use it, the materials are destroyed. (if we choose to use it, it remains in our libarary.) So be sure you do not send a "one of a kind" recording. Make sure you have your own copies.


The "Sound" We're Looking For...
What is the sound are we looking for? The music we play is, for the most part, quiet, peaceful and relaxing. A strong melody is also a must. It's got to be ear-catching. If your music is contemplative and melodic, send it in. That's exactly what we're looking for!


Reasons We Might Pass On Your Music...
1) The album ISN'T solo piano. Orchestration or "sounds" are added throughout
2) The album doesn't fit our quiet, peaceful format. If you're pounding on the piano, we won't use it.
3) The album isn't recorded professionally. It sounds like a home recording, the piano is out of tune, or it's a digital piano recording and really sounds like it.
4) The music isn't melodic. Melody is a big thing for us. If the music rambles on without any real melodic structure, we'll likely pass.


Ready to Submit Your Music?
Great!

First, read and print out this license agreement. If you agree, sign it and include it in the package with your submission. The agreement is very simple. By signing it...

You confirm that you are the *sole* copyright owner for any music that we might include on the program. Whisperings can only play your original compositions - no cover songs. However, we CAN include public domain works, so long as you own the copyright to your particular arrangement.
You confirm that as the copyright owner, you give Whisperings permission to broadcast your music, royalty free, in exchange for the promotion we'll provide for your music to our listeners. Why royalty free? That's explained on page one of the license agreement and also here.
You confirm that you will represent yourself as the licensor of your music to us, and that you are not expecting any other agency (BMI, ASCAP, SOUNDEXCHANGE, the RIAA) to do that for you. In other words, we are asking YOU to give us direct permission to play your music. By signing the license agreement, you are stating that you will represent yourself and that these other organizations cannot collect licensing fees from Whisperings for you.
Second, package up your CD along with a cover letter, contact materials, and the signed license agreement and mail that to:

Whisperings Radio
P.O. Box 116
Junction City OR 97448

We will be in touch if we decide to include your music. Thank you!

David Nevue
Whisperings: Solo Piano Radio