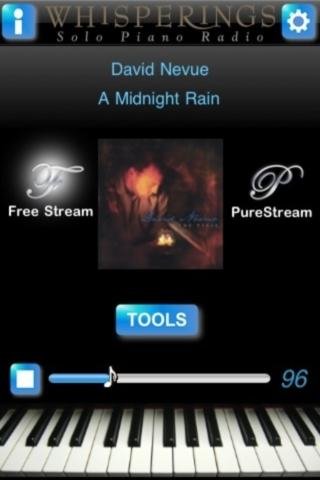 The Whisperings App

Android App
See Also: iPhone, iPod Touch, iPad, Mac Desktop

Want to take Whisperings: Solo Piano Radio with you on the road? If you have an Android Smartphone or Tablet, now you can!

The Whisperings app was custom designed to access Whisperings radio over any 3G, EDGE or WiFi network. Tune right in to the free stream or, if you have a PureStream account, you can log into your commercial-free PureStream account directly from the application.

Get the application right here from the Android App store for $9.99.

Here's what you get with your purchase:

A Beautifully designed interface that displays the album art, song and artist info.

If you like a song you can visit Amazon.com to purchase and download the current song (or other songs) while you continue listening.

Contains a built-in browser so that listeners can visit Whisperings' artist home pages, view concert schedules, buy concert tickets, subscribe to Whisperings PureStream and peruse other sites without exiting the app. Also you can leave us your comments on the Whisperings' Facebook and Twitter pages through the built-in browser.

One-click login for PureStream subscribers.

Supports playing music in the background.

Responds to many popular docking station remote controls as well as controls on headphones.

Configurable sleep timer that will gradually fade the music and shut down the app.

Ability to control stream buffering and stream quality to help provide a better listening experience on congested networks.

Incredible, fast, one on one customer support for the app... direct from the app developer.

Free upgrades to all future versions!

About the $9.99 Price....
People have become used to downloading free apps or .99 cent apps, and they often ask why we "charge so much" for the application. First, ask yourselves this... How many free or cheap apps give you fast, one-on-one customer service to help you with any problems or questions you might have? Plus, just look at all the features the Whisperings app offers. The Whisperings app is a luxury item... it is far superior to "free" apps, and one of the reasons it is so is because of the time and dedication the developer puts into building, maintaining and supporting the app. Most free apps give you zero help or service, and in most cases, they don't keep on top of operating system updates and changes. This app does, and so you know, once you pay for it, you'll be able to enjoy it for a long, long time, even as the operating system you're using it on changes over the years.

Please Note: The App does not include a PureStream subscription. That is a separate item and can be purchased here.