Whisperings: Solo Piano Radio features some of the most talented pianists and storytellers in the industry today. A Whisperings concert isn't just about great piano music, it's about personality. It's about entertaining people from all walks of life, including entire families. It's just plain fun, and there's no other solo piano concert like it. Here's a concert review of a show we did in Birmingham, Alabama.
What to expect...
A concert typically features three piano artists of varying styles. We start the show with quiet, meditative music and build to our big finish, which is usually an interactive, improvisational jam on the piano with all three artists participating. By the end of the concert, we will have the crowd clapping, laughing, and leaving with a big smile on their face. The great thing about a Whisperings show is that the crowd gets to enjoy a large variety of musical styles and personalities all in one sitting.
Whisperings concerts tend to go just over two hours, which includes a 20 minute intermission.
Whisperings: Solo Piano Radio is EXPLODING in popularity, with over a million listeners tuning in every month. The Whisperings concert event is new, interesting, and entertaining. Wouldn't you like to EXPERIENCE it?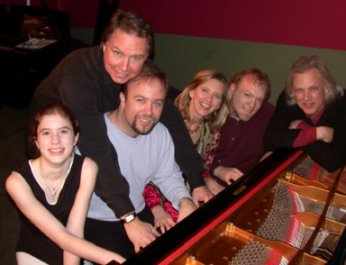 The 2005 Whisperings Artist Showcase in Bellevue, WA.
Featured from bottom left to right, Alexx Carnathan, Mike Strickland (standing), Joe Bongiorno, Jeanette Alexander, David Nevue and David Lanz.
The cost...
How much to bring a Whisperings concert to your venue? It really depends on the part of the country you're in, whether you have a specific artist you want in mind, and how you prefer to handle ticket sales. All artists will need their travel expenses covered at the very least. Generally, costs to bring a show to you start at about $4500, but may be more or less depending upon your location and other factors.
For more information, contact program producer David Nevue at dnevue@rainmusic.com . David will be happy to work with you.